MICROBLOC® Technology THE CLEAR ADVANTAGE
99.8% Efficient at Separating Water from Fuel
Water can cause injector nozzle and fuel pump corrosion, resulting in equipment failure and downtime. Unfortunately, water vapor continuously condenses inside your fuel tank. Griffin Fuel Filter Water Separators eliminate this worry by removing water and other contaminants from your fuel supply. All Griffin Fuel Filter Water Separators use MICROBLOC® Multi-Grade Filtration Media Elements.
Moisture content tests* conducted by Singapore Productivity and Standards Board or PSB prove that Griffin Fuel Filter Water Separators with MICROBLOC® Multi-Grade Media are 99.8% efficient at removing water from fuel samples.
*Test report reference: 57S055941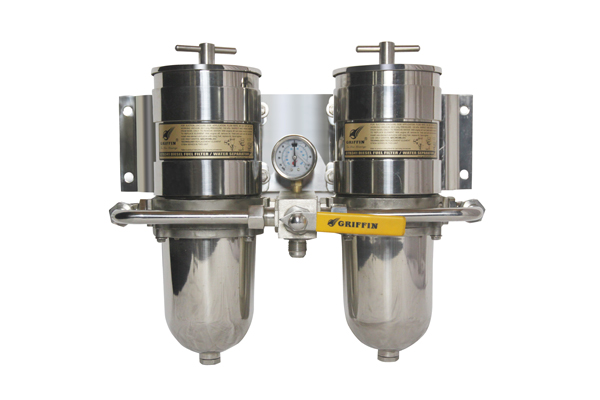 Removes Damaging Contaminants
Every time you refuel, millions of tiny contaminants enter your fuel system. Even small, nearly invisible particles can damage injectors and pumps — reducing fuel efficiency, robbing power, or worse.
MICROBLOC® Filters protect your engine from solid contaminants by filtering particles as small as 2 microns in size. MICROBLOC® elements are available in 2, 10, and 30 micron ratings.
High Capacity
MICROBLOC® elements provide multi-layered filtration. Corrugated filtration media means more surface area to trap contaminants.
Longer Filter Life
MICROBLOC® elements don't need replacing as often as "will-fit" filter cartridges. MICROBLOC® filtration efficiency is up to 10 times greater than conventional media.
Built to Last
Griffin Fuel Filter Water Separators are built to take on any filtration job. In addition to basic aluminum material housing, Griffin's Turbine Series Water Separators for the marine sector also feature S4 or S6 trims equipped with stainless steel hardware.
Easy to Replace
All MICROBLOC® replacement elements meet or exceed OEM specifications and may be replaced without the use of special tools.
Enhances Engine Power
Griffin Fuel Filter Water Separators enhance engine performance and reliability. You will feel your engine is more powerful and smoother after you install a Griffin Filter. A Griffin Filter gives your engine a longer life.
Reduces Fuel Consumption
A clean engine runs more efficiently and uses less fuel. With fuel prices steadily increasing, no one can afford dirty fuel and poor performance.
Greener Technology
Clean fuel means clean exhaust. Griffin Filters reduce exhaust pollution more effectively than other similar products.
Best-Performing, Most Cost-Effective Choice
Griffin Fuel Filter Water Separators are the right choice for fuel filtration. Relying on research, science, and technology rather than marketing hype, Griffin products meet and exceed leading brands at competitive prices. A Griffin filtration system with MICROBLOC® is simply the best-performing and most cost-effective choice for your filtration needs.